March 24, 2023
What is Jog-Thon?
Jog-A-Thon is our Spring fundraiser supported by families, and sponsors within the community. These donations help us raise valuable funds to support our ongoing classroom enhancements and programs such as:
Trunk or Treat
STEM/STEAM
Multicultural Event
End of Year Carnival
Digital technology including iPads, additional Chromebooks for students
Classroom grants
Books for the library
Enhancements for Innovation Lab
Educational field trip grants
Each student receives a complimentary T-shirt for Jog-A-Thon through generous donations.
It is our most highly anticipated and well attended fundraiser of the year. The students can Dash, Walk or Run during this on campus event held in the morning. Grade level times will be announced below.
PLEDGES – Students will earn funds from family, and friends thorough an online platform called 99 pledges. No registration is required. Click the link below or scan flyer to start this simple process. Type the participant's name in the search box and click on your student's name. It will take you directly to their Pledge Page. The last step is to share the pledge page with your friends and family! Any amount is greatly appreciated!
Ihttps://app.99pledges.com/fund/Lomaridgejogathon2023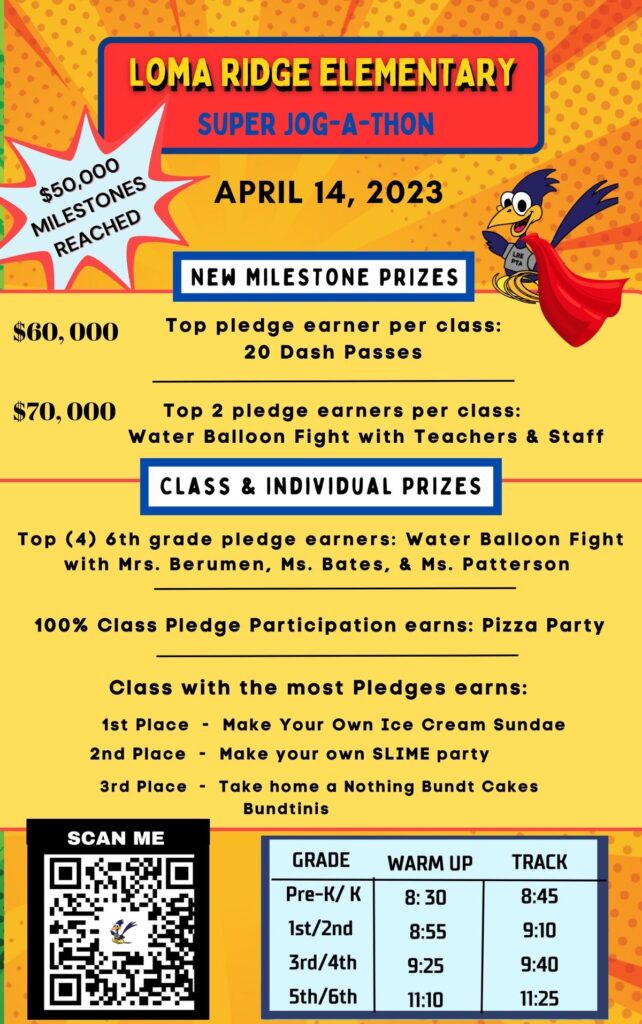 PRIZES – Many opportunities for participants to achieve awards through 100% class pledge participation, top class pledge earners, and top pledge earners from each grade. Prizes include silly string the principle, pie in the face, dunk tank, and turn Ms. Berumen into a human sundae. Top (4) 6th grade pledge earners will be rewarded the opportunity to make a dashing splash while partaking in a water balloon fight with Ms. Berumen, Ms. Bates, and Ms. Patterson!! Please review class prizes, individual prizes, and milestone flyers attached below for more opportunities for awards!
Volunteer Opportunities – https://www.signupgenius.com/go/10C0E4AADA92AA6F4CF8-2023
Plan Ahead
Students will be given a complimentary Jog-A-Thon T-shirt and a Loma Ridge Super Hero Cape morning of event!
Have your student(s) wear comfortable clothing, and comfortable shoes.
Make sure your child wears sunscreen. Check the weather!
A water station will be provided for students. Students can also bring their own water bottle.
Parents show your school spirit by wearing dashing Loma Ridge spirit wear or school colors! Don't forget to cheer on your participant(s) with a fun sign or small poster.
Thank you to our Jog-A-Thon Sponsors!